Streeterville
254 E Ontario Street, Chicago IL 60611
Phone: (312) 255-1632
Open Daily 9:00am – 6:00pm
We are offering walk-in, pick-up and delivery orders.
All orders must be paid for prior to pickup/delivery.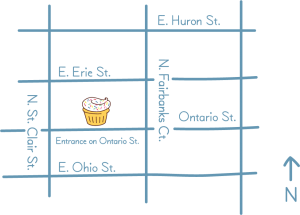 HOW TO ORDER
All same day orders can be be placed online!
Click here to start your order! 
Custom cupcakes, bars, cookies, and pies or orders for a future date may be called in with at least 48 hours notice.
Custom cakes require 4-5 days notice.
**tiered cakes and sheet cakes are unavailable at this location**
Same Day Pick Up & Delivery